When shopping for a premium liposomal supplement, there are a few key factors to consider.
The ASA recently announced a ruling, deeming it illegal for brands to claim to be a 'liposomal' Vitamin C without having the evidence to quantify their claims. With the vitamin & supplement market worth £494m in 2020* and projected for fast growth, supplementation is a minefield for consumers to navigate. Leading liposomal brand Altrient, the originators of liposomal technology, are here to explain what consumers should be looking for when buying a vitamin C supplement and explain how true liposomal technology really works.
What is a Liposomal Product?
Liposomal encapsulation technology is a cutting-edge technological method of making liposomes – microscopic bubbles that encapsulate various substances. The name liposome originates from two Greek words – lipos and soma – 'lipos' meaning fat and 'soma' meaning body. The liposomal encapsulation technology system has unique characteristics that help enhance the absorption and efficiency of supplements. With liposomal encapsulation technology it is possible to: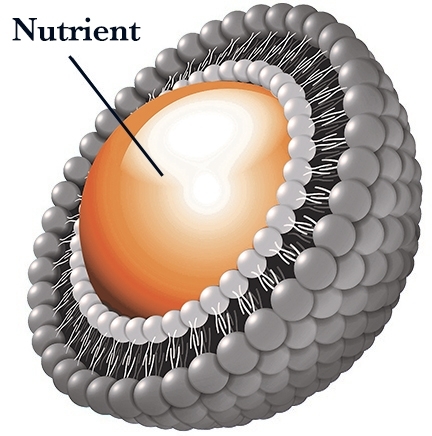 Increase ingredient solubility
Repel degradation by digestive juices in the gastrointestinal tract due to protection from the liposome's phospholipids bilayer
Slow down nutrient release
Buffer against extreme pH and temperature
Increase resistance to free radicals produced in the body
Increase resistance to intestinal flora
Protect the contents from oxidation
Enhance intracellular nutrient uptake
Ensure contents are delivered undamaged to target areas
Avoid immune system activation
How Altrient Works


How to Identify A Genuine Liposomal Product

Reputable manufacturer seen on the box.
Rigorous testing standards - NSF, GMP, Informed Sports
Products prepared and stored in oxygen free environment
Aiming cellular absorption
An average >100 nanometer or above of size of liposomes to meet regulatory requirements
Consistency and structure (bilayer not monolayer)
Suitable phospholipids used in equal proportions
Pure formula with only 4-5 essential ingredients

LivOn are the original pioneers of Liposomal Encapsulation Technology (LET) and they launched their reputable liposomal supplement range, Altrient in 2004. Unfortunately, copycat brands have started to emerge over the last few years, which on closer scientific examination, may not deliver the same level of authenticity, liposomal stability and rates of nutrient absorption, retention and cellular uptake. There's recently been a rise in brands marketing liposomal products that have no liposomes in them at all! And some brands add unnecessary ingredients such as flavourings, colours, sweeteners and sugar, which have the ability to destabilise the liposomes.

Altrient - tried, tested and trusted by professionals
Recommended and used - by experts in nutrition, orthomolecular medicine and the medical field across the globe.
Reputable manufacturer - LivOn, the original pioneers, use cutting-edge technology to generate authentic liposomes;
Superior absorption - patented process, crafted from nearly two decades of scientific research and development to deliver maximised absorption.
Trusted quality - Altrient provides a high rate of encapsulation, full-size range of liposomes and premium liposomal stability.
The 3 R's - active ingredients plus LivOn's patented liposomal encapsulation technology delivers effective Rate of intracellular uptake into white blood cells, Retention time & Rate of absorption.
Rigorous testing - Every batch of Altrient is tested to ensure a high level of encapsulation and liposome stability. FDA and EFSA approved.
Clean formulations - no added extras. Made without sugar, sweeteners, flavourings, colourings all known to destabilise the liposomes.
Premium ingredients - LivOn source high- grade phospholipids with a specific ratio of phosphatidylcholine and phosphatidylethanolamine suitable for
creating strong, stable liposomes.
My Altrient With Dr Thomas Levy
Comparing the bioavailability of all other oral vitamin C delivery with Altrient's oral liposomal delivery is like comparing a squirt gun to a fire hose. Not only am I convinced that the efficacy of Altrient vitamin C far surpasses any traditional oral vitamin C supplement, but my recent personal experience with it suggests that it may sometimes be better than IV injection.

- Dr. Thomas E. Levy – Cardiologist & Author of Primal Panacea
LivOn Research
Mikirova N, Levy T & Hunninghake R. (2019) The Levels of Ascorbic Acid in Blood and Mononuclear Blood Cells After Oral Liposome-Encapsulated and Oral Non-Encapsulated Vitamin C Supplementation, Taken Without and with IV Hydrocortisone. J Orthomol Med. 34(1).
Princeton Consumer Research (2014). A double-blind, home-use study in approximately 45 healthy volunteers with ageing, non-firm skin to assess the efficacy of different treatment dosages of a vitamin c dietary supplement compared to a placebo control group. https://www.altrient.com/assets/uploads/clinical-trial-Prinston-Consumer.pdf
References
Ashraf M A et al. Liposomes as amphiphilic Carriers: encapsulation and stability aspects. Sains Malaysianna 2016; 45 (1): 71-77.
Food Supplements Europe Guide to Good Manufacturing Practice for Manufacturers of Food Supplements. https://foodsupplementseurope....Front. Microbiol., 05 December 2017 | https://doi.org/10.3389/fmicb....

https://www.livonlabs.com/lipo... MR. Liposomes: An overview of manufacturing techniques. Cell. Mol.Biol. Lett. 2005, 10,4: 711-719.
NBR. Food supplements the other ingredients (2014). https://www.nutraceuticalbusinessreview.com/technical/article_page/Food_supplements_The_other_ingredients/97752. [accessed 29.7.21]
NFS Regulatory affairs. https://www.nsf.org/about-nsf/regulatory-affairs/about-nsf-certification. [accessed 30.7.21]
https://ec.europa.eu/food/safety/novel_food/consultation-process_en, https://ec.europa.eu/food/site...
Browse our range